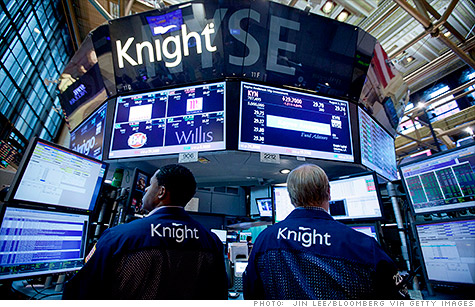 A group of investors rescued Knight Capital Group Inc in a $400 million deal that keeps the embattled leader in U.S. equities market-making in business, but comes at a huge cost to existing shareholders.
Chief Executive Tom "TJ" Joyce told Reuters the new investors supported him and his management team, but it was too early to tell whether the firm would shrink or keep the same strategy it had before last week's losses.
Yet there were immediate signs the rescue gave Knight back some of the market confidence it had lost, as two large brokerages resumed routing orders through the company and new data showed volumes picking up from last week's lows.
Blackstone Group LP, rival market maker Getco and financial services companies TD Ameritrade Holding Corp , Stifel Nicolaus, Jefferies Group Inc and Stephens Inc purchased preferred shares for what works out to be a 73 percent stake in the company, Knight said.